Mar 26, 2019
Halton students attend youth energy and climate summit
Four students from Matthew Halton are tomorrow's energy and climate leaders for Pincher Creek, after returning from a recent leadership summit based on the subject.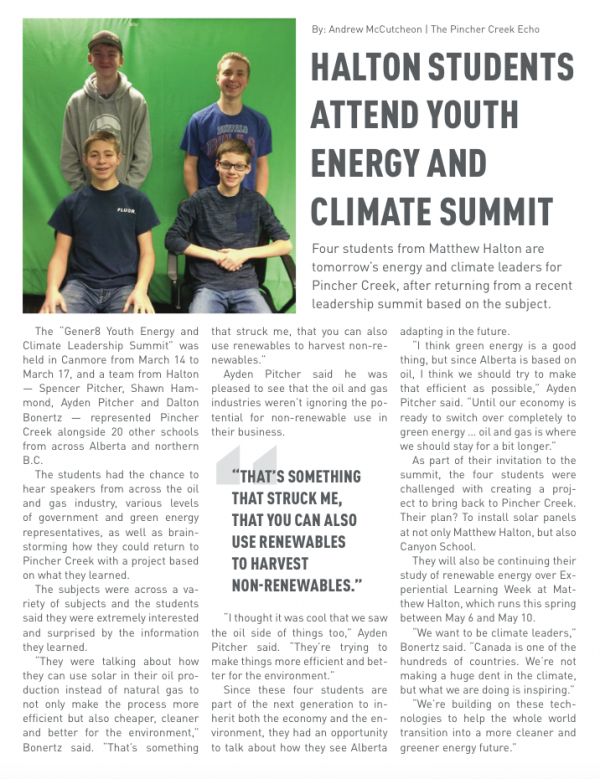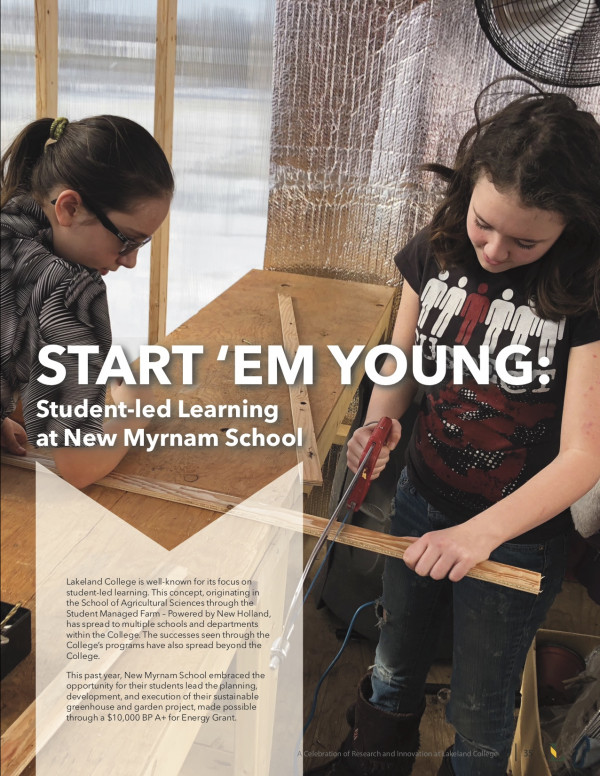 Start 'Em Young
Student-led Learning at New Myrnam School
New Myrnam School students and staff are going to be featured in an upcoming issue of Lakeland College's Limitless magazine for their innovative project that involved junior high students creating a net zero greenhouse and garden for the school. The project was made possible because New Myrnam School won a grant for $10,000 through the BP A + for Energy Program. Part of the project involved students of New Myrnam collaborating with Mr. Rob Baron, who is a faculty member and program head for the Renewable Energy and Conservation program at Lakeland College in Vermilion, Alberta. Students were able to tour the campus at Lakeland, where they examined real life examples of sustainable greenhouses and renewable energy. This helped them in planning and designing their own projects. Mr. Baron provided support to students and staff at our design conferences during the school year. He also was instrumental in helping teachers plan the project during the summer.
Oct 24, 2019
Trailbreakers host Energy Expo at Annex
Fifth grade students piled into the basement of the Annex on Thursday, Oct. 24 for a hands-on learning experience about energy with the Trailbreakers.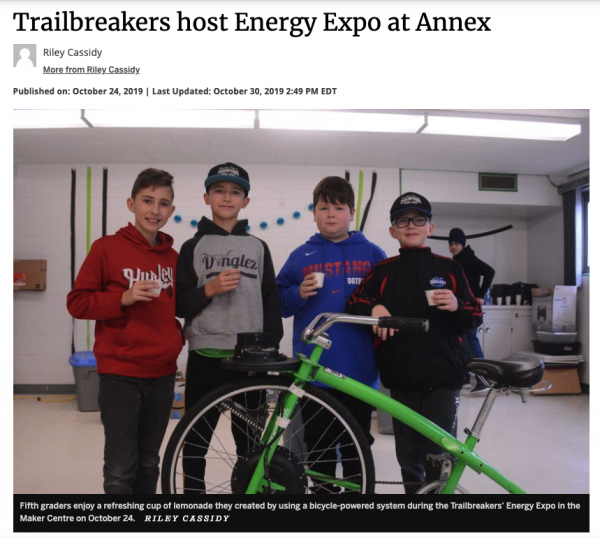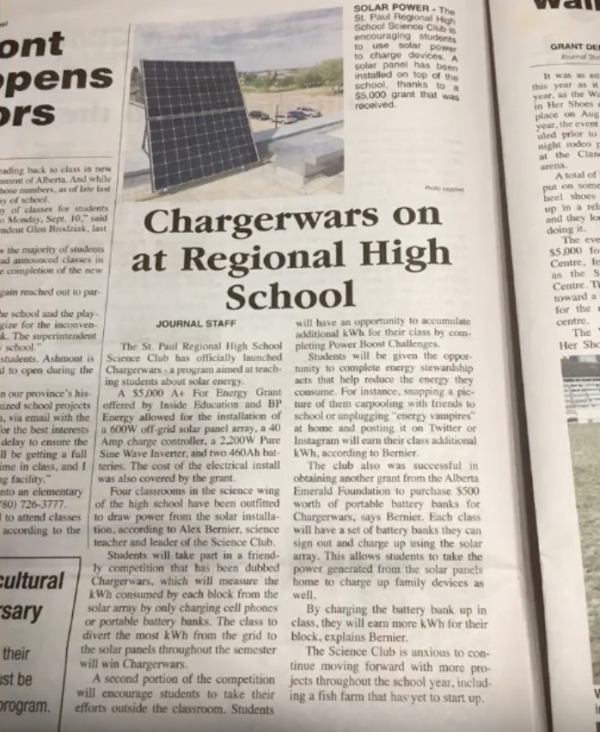 June 14, 2019
Chargerwars on at Regional High School
Throughout the 2018-2019 school year, students at St. Paul Regional High School classes have been competing with each other to divert the most energy to solar power by charging only their phones. Through the $5,000 Inside Education and BP Energy "A+ For Energy Grant", the SPRHS Science Club was able to purchase and install an off-grid solar panel system. The power harvested is directed to 4 outlets in our Science Wing that students can access. Each class charges up their devices and records the kWh diverted from conventional outlets to our solar outlets.
Mar. 16, 2020
Lacombe Composite HIgh School participates in engaging agriculture education summit
Highlights of the ​Cultivate Summit​ included a technology tour of Olds College research facilities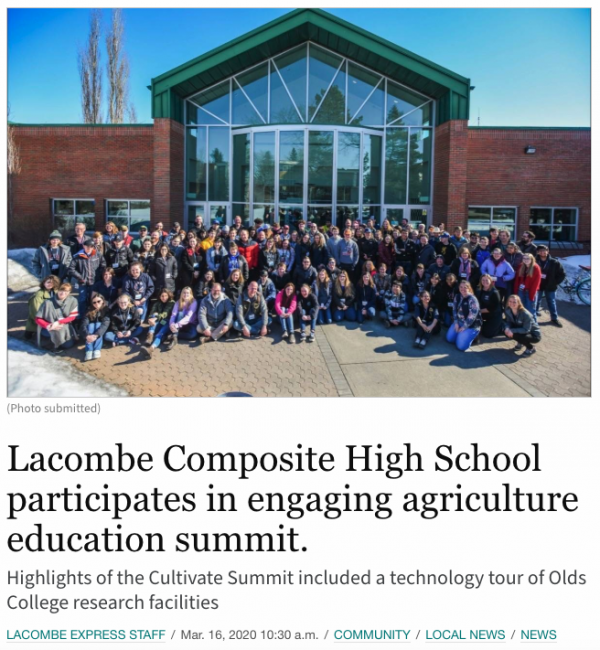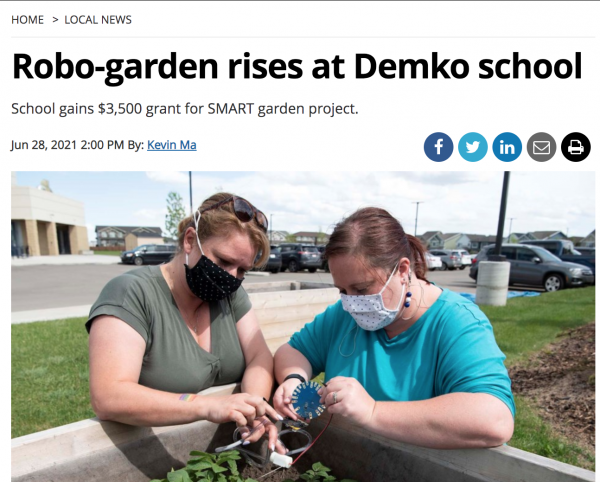 Jun 28, 2021
Robo-garden rises at Demko school
WHERE'S THE TOMATO DETECTOR? — Joseph M. Demko teachers Marie Jahner (left) and Laura Banu examined some of the sensors that were used in the school's SMART Garden project in June. The garden is meant to help students learn about energy efficiency in agriculture.
Mar 12, 2020
MCHS students participate in agriculture education summit
Students and teachers from Morinville Community High School spent several days last week learning about Alberta agriculture and the science, technology, and innovations behind it at the Cultivate Youth Agriculture Leadership Summit.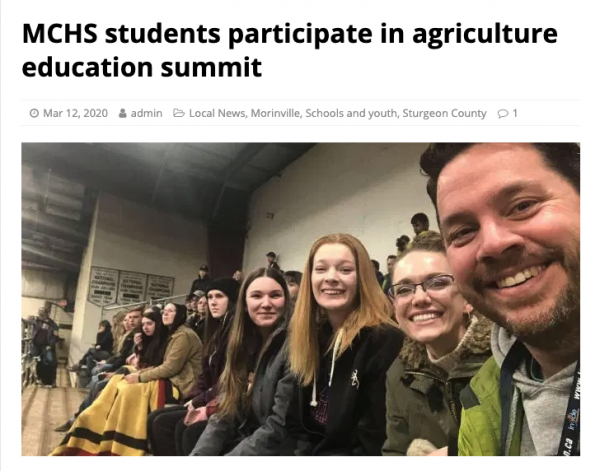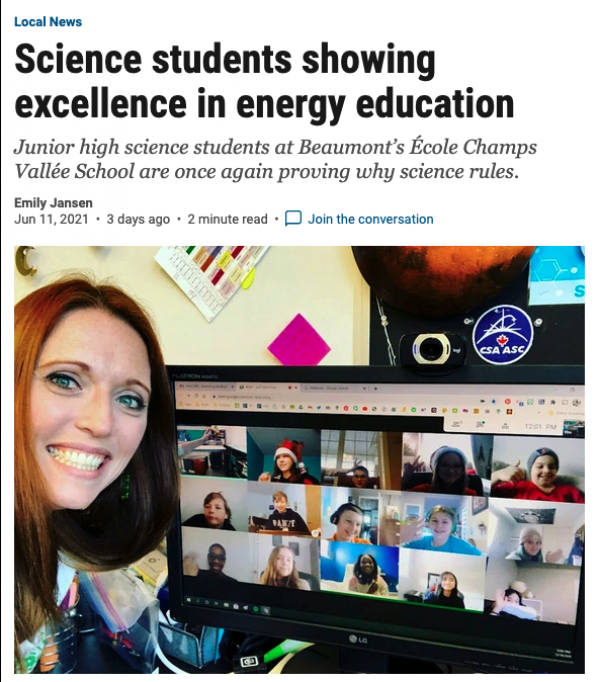 Jun 11, 2021
Science students showing excellence in energy education
Junior high science students at Beaumont's École Champs Vallée School are once again proving why science rules.
May 6, 2021
St. Mary's Elementary Printing the Future
Thanks to a $5,000 boost from Inside Education's A+ For Energy Grant, students at St. Mary's Elementary School are printing their way into the future.
With this donation, Grade 7 teacher, Brayden Ursaki, was able to purchase two new 3D printers with roll-carts for each.
Inside Energy funds a number of classes and teachers throughout Alberta, all to do with energy education.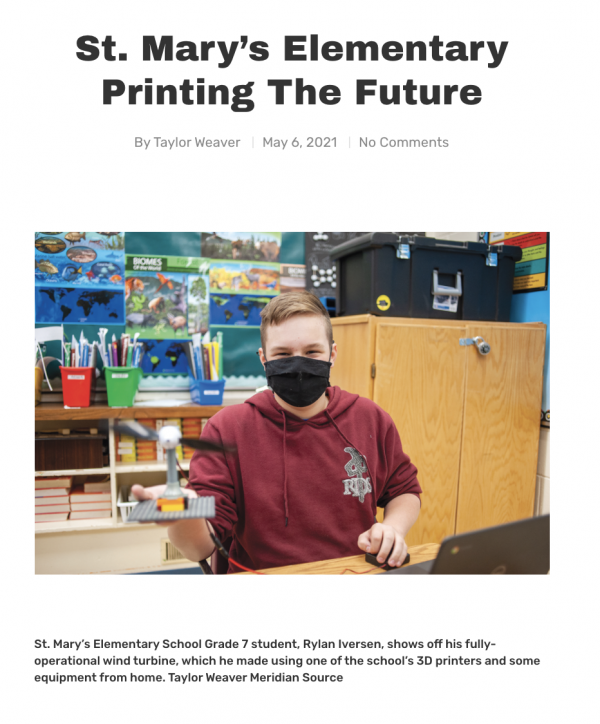 November 1, 2022
High school agriculture conference attracts nearly 110 people to Olds College
Inside Education holds ag-focused Cultiv8 in Olds this year while next year it will have an event in Canmore focusing on energy and climate change!