Spend the day with Inside Education exploring local energy innovations that are shaping the future of energy in your community and beyond!
Inside Education's no-cost energy innovation days allow junior high and senior high students the opportunity to explore key themes including renewable and alternative energy, Alberta's path to net-zero, energy efficiency and conservation, green buildings, sustainable transportation, technology, careers and so much more!
These no-cost experiential learning days are fully facilitated by Inside Education and will include tours, workshops, and presentations by expert guests.
Your junior and senior high students will:
Tour local energy initiatives and technology in their community

Learn from local energy experts

Gain a deeper understanding of energy, sustainability, and climate change

Share their ideas for the future of energy in Alberta

Have a hands-on learning experience that enriches curriculum

Connect to career opportunities in the energy sector
2022-2023 Energy Innovation Days Report
| | |
| --- | --- |
| 8:45 - 9:15 am | Bus Pick up at your school |
| 9:30 - 10:30 am | Introduction to energy presentation |
| 10:30 am - 12:00 pm | Morning Energy Innovation Tour |
| 12:00 pm - 12:45 pm | Lunch Break** |
| 1:00 - 2:30 pm | Afternoon Tour |
| 2:30 - 3:00 pm | Bus Drop off at your school |
*Programs may vary
Details:
Buses are booked and paid for by Inside Education!

Bring your own lunch - snacks are provided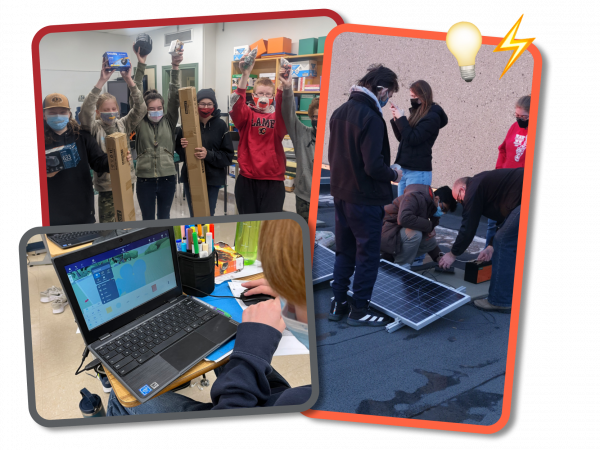 Date

Location

September 13, 2023

Edmonton (Sr. High)
*Carbon Capture Convention

September 20, 2023

Calgary (Sr. High)
*Energy Works Career Expo

November 7, 2023

Fort McMurray (Jr./Sr. High)

November 22, 2023

Grande Prairie (Jr./Sr. High)

December 6, 2023

Calgary (Jr. High)

December 12, 2023

Red Deer (Jr./Sr. High)

January 17, 2024

Edmonton (Jr. High)

February 6, 2024

Medicine Hat (Jr./Sr. High)

February 21, 2024

Lac La Biche (Jr./Sr. High)

April 10, 2024

Cold Lake/Bonnyville (Jr./Sr. High)

April 24, 2024

Edmonton (Sr. High)
*Hydrogen Convention

June 13, 2024

Calgary (Sr. High)
*Global Energy Show
"An engaging, enriching, and empowering cross curricular experience. Getting the chance to speak to industry leaders directly is incredible and relevant as students begin to consider future careers."
- Cataline Fric, Teacher, Dr. Margaret-Ann Armour School, Program Participant Spring 2022
Contact program coordinator Mila Mezei with any questions.
Please inquire if you would like more detail or have a special program request!