Inside Education is now offering no-cost wetland field trips across Alberta!
These curriculum-connected programs will explore local wetland ecosystems through a series of hands-on activities including pond dipping, water chemistry, and plant/animal identification!
Length: 2 hours
Location: We will work with you to find a local natural area or stormwater pond near you
Cost: This program is no-cost!
Transportation: Schools are required to provide their own transportation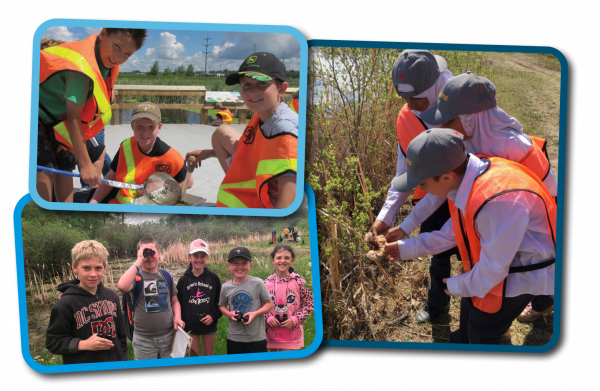 "Best Wetland program around! The kids always enjoy the day and take something away that they didn't know prior to the visit! Well done!!"
- Jenna Otway, teacher, Niton Central School
Grade 5
Wetland Ecosystems
The best way to learn about wetlands is to visit one! Let us guide your class through the wetlands unit and experience these unique ecosystems firsthand. The program includes station activities and everyone will have a chance to pond dip for aquatic invertebrates.
Themes: wetland types, aquatic invertebrates, wetland plants, stewardship, plant and animal identification, and adaptations
Grade 8
Freshwater Systems
Use local wetlands to connect to a larger discussion about provincial fresh water, watersheds, and the role we all play in ensuring healthy water for the environment, society and economy. Your class will also have the opportunity to sample water to contribute to an Alberta-wide citizen science initiative.
Themes: Alberta's water resources, water quality, human impacts on aquatic ecosystems, aquatic monitoring for invasive species, and citizen science
Grade 11
Aquatic Study
Take your aquatic study to the next level by adding data to a province-wide water quality monitoring program. This field program will serve as an introduction to a larger aquatic study where students will formulate their own questions and use qPCR technology to evaluate ecosystem health.
Themes: watersheds, water monitoring, aquatic biodiversity, aquatic invasive species, connections between science and technology to the healthy people and healthy watersheds, DNA, citizen science, water use, and biological contamination