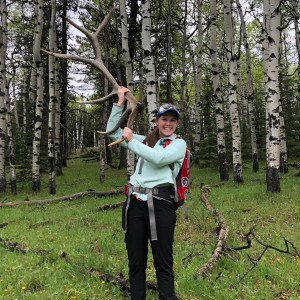 Kat
Hill
Education Program Coordinator
Kat's Bio
Kat (she/her) hails from Calgary and spends most weekends hiking, camping, riding horses, or cross country skiing! Inspired by the enjoyment of the outdoors and her passion for the environment, she attended Lakehead University and received an Honours Bachelor of Outdoor Recreation where she studied accessible recreation, expedition management, and rural tourism. Kat loves teaching about wetlands and watersheds especially so be ready to nerd out about aquatic invertebrates if you give her the chance.
Member of the Youth and Young Professionals Committee - Bow River Basin Council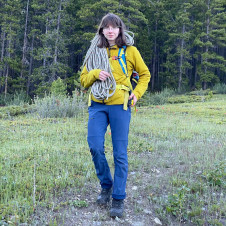 Charlotte
Thomasson
EDUCATION PROGRAM COORDINATOR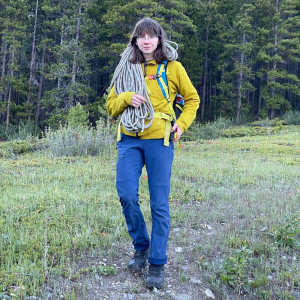 Charlotte
Thomasson
EDUCATION PROGRAM COORDINATOR
Charlotte's Bio
Charlotte (they/she) is a settler born and raised at the foot of the Rockies, who now calls Amiskwaciy (Edmonton) home. She holds a Bachelors of Science in Conservation Biology from the University of Alberta and has always loved spending time among the moss in the boreal forest. Charlotte can be found rock climbing or canoeing the North Sask in the summer, and cross-country skiing most winter weekends! Previously, they have worked throughout northern Alberta and are excited to serve the students and teachers of the Peace Region. Chloe's Bio
Chloe brings a range of communication experience to the Inside Education team ranging from non-profit, corporate, and government. She has provided leadership, great ideas, and new direction to the team! When Chloe isn't surfing the interwebs, you can find her hanging with her husband, Dan, 3-year-old son, Jack, and pup, Walter. Mila's Bio
Mila was raised in Calgary and studied Environment & Sustainability Geography at UBC Vancouver. She nerds out when talking about Alberta's wildlife, ecosystems and energy landscape, and her happy place is on a ridge in the backcountry with a good pair of binoculars. As Lead of the Inside Education's Energy & Climate Team, Mila especially loves to teach, learn and share her enthusiasm for energy and climate topics, and is so happy to work alongside such a knowledgeable, positive and inspirational group of Educators!
B. A. Environment Sustainability Kathryn's Bio
We have our own secret energy source, and it's called Kathryn. She energizes and inspires the entire education team, with her incredible vision and positivity. Kathryn is an enthusiastic, experienced science educator, who loves to play a role in creating aha moments for others. When light bulbs start going on, you know Kathryn is in her element, engaging others in learning. Which makes the future bright and full of promise.
Director - Canadian Network for Environmental Education and Communication
Alberta Emerald Foundation Judging Panel