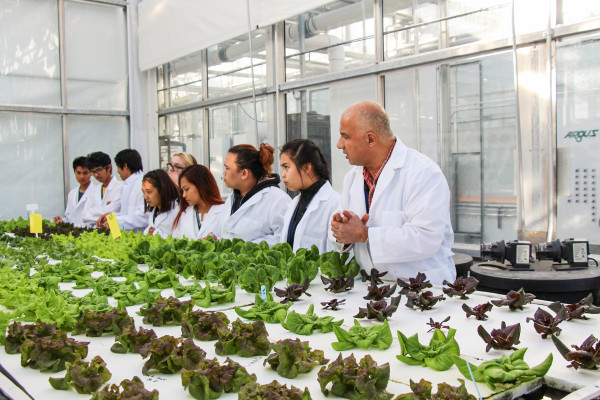 During your team's time at Cultivate you will begin to work on a school or community-based project to draw attention to or create agriculture opportunities in your community!
One of the goals of Cultivate 2022 is to increase students' understanding of food security in Alberta through the exploration of sustainability, accessibility and technology and innovations in the sector.
Inside Education will support your efforts in carrying out these projects to completion by connecting you to important community partners, helping you to find and secure grant money where needed, and helping you to navigate other logistical components that may arise over the course of your planning and implementation.
We know that deciding on a project can be a little daunting so we've created outlines for some of our favourite projects below to choose from! If your team has an idea for a project outside of the scope of one of the projects below, we'd love to hear about it and work with you on how best to support the project design and implementation process. You can also check out past projects that have been done here and consider if you could apply them to your school!
One thing that we will draw connections to throughout Cultivate 2022 are the targets for the United Nations Sustainable Development Goals #2, #12, #13, and #15 and we hope that these projects will demonstrate your individual commitments to global change, starting in your own communities.
Plan an Agriculture Day for your School
This project will enable your team to develop event planning and coordination skills to put on a small scale, one day agriculture event for your grade or school. By planning a local farm (or other part of the food system!) tour, you will be able to connect with your community in a hands-on way and learn more about the food system in your region.
You could consider visiting places like:
A livestock or crop farm
An organic waste or biomass facility
A plant or animal research facility
Veterinary campuses
University faculties
Government facilities
An organization that has created a new technology for the agriculture industry
Deliver an Agriculture Presentation to your School or Community
With this project, your team will create and deliver a presentation about Alberta's agriculture scene to other students at your school, or other community members such as younger students at an elementary school, an organized group like Scouts, your town council, or anyone else that you can think of! Your team will get the chance to develop presentation skills such as learning how to create an engaging presentation, activity development, and public speaking.
Some ideas for a presentation topic include:
The coolest things you learned at Cultivate 2022

Alberta's agricultural past, present and future

Careers in Alberta's agriculture sector

Technology and innovation in the agriculture industry

Changing environment and sustainability in the industry

Can't organize a farm tour for your school? Connect with local agriculture experts and see if they can come to you!
Implement an Agricultural Opportunity for your School/Community
In this project you will design a way for your school or community to be more involved in small scale agriculture. This may look like a school/community vegetable garden, adding an agricultural component to an existing class like robotics, or advocating for change like starting a compost program or having your school cafeteria or home economics/foods class try out a "100-mile diet" for a term (or two, or for the rest of forever!). Of course it's not limited to those ideas, especially if you consider every part of the food system!
We've had projects in the past related to:
Agriculture in the Robotics class using FarmBot

Greenhouses

Hydroponic gardening
Interested in doing something else?
Maybe your team already has a big agricultural idea in the works! Your school may have different facilities that could allow you to bring these hands-on experiences to daily life at school; think building and using chicken coops or barns, or creating a butchery or food processing section of an established foods/agriculture curriculum, those kinds of big ideas! If your team has an idea for a project outside of the scope of one of the listed projects, we'd love to hear about it and work with you on how best to support the project design and implementation process.
We ask that you please run your project idea by Kat in advance of the summit so that we know what to expect and can be prepared to help you with your great idea.
You may contact Laura Pekkola at [email protected]