Grow hands-on learning through your school's garden!
As part of our suite of Agriculture Education programs, Inside Education is pleased to be working with Nutrients for Life to bring an exciting opportunity to develop gardens in Alberta classrooms and school yards. Whether you already have a school learning garden that you would like to expand or would like to create a new one – this is your chance!
Nutrients for Life Canada has a series of resources and lessons for teachers and parents to continue the learning at home! Activities cover soils, nutrients and fertilizers – check it out!
---
The deadline to apply is March 30, 2022; any applications received after this date will be considered for the next grant year.
School, teacher and principal contact information
A description of your garden plans, including photos if applicable
Expected student reach and how the garden will enhance student learning
For more information about this program, please contact Kat Hill – 403-818-6209
In partnership with Inside Education, Nutrients for Life Canada will award successful applicants funding for the development of school gardens:
1. Learning Garden – $3000
$3000 will be awarded for these two year projects. ($2500 in year one and $500 in year two)
2. School Garden – $500
$500 will be awarded for these one year projects.
*schools may also request other amounts between however grants over $1500 will be considered 2 year projects and money will be divided 80% in year 1 and 20% in year 2
Grant winners will be required to share how they built and used their garden, along with the benefits to the school and student learning. Videos, photos and participant testimonials go a long way to showing your school's experience. Need a little inspiration? Check out these video reports from schools across Canada that are benefiting from their Nutrients for Life Garden Grant!
$500/ one year grant recipients must submit a video or written summary by June 15.
$3000 / two year grant recipients must submit a mid-point summary in June and a final video report by December 1.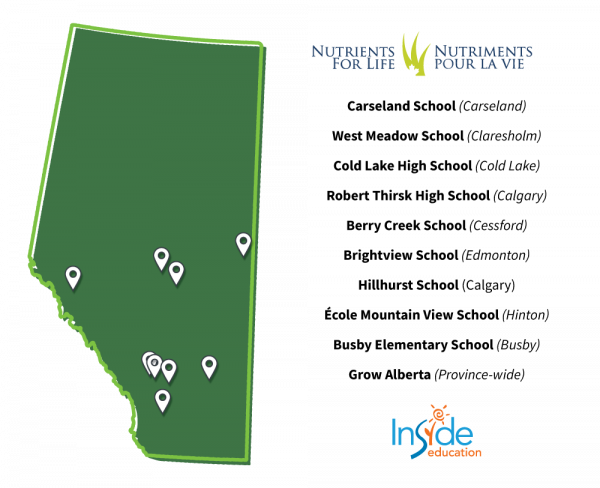 What is Nutrients for Life?
This program encourages teachers and students to roll up their sleeves and discover the role nutrients play in food production, health and the environment. In addition to providing funding for your project, Nutrients for Life supports student learning by providing access to cross-curricular learning resources related to agricultural sustainability and the science behind food production.
A Nutrients for Life Learning Garden is a valuable learning environment where your students will:
Engage in project-based learning about nutrition, health and food security
Build environmental awareness and stewardship skills
Foster collaboration, teamwork and leadership in your community
Gain outdoor experiences while engaging in physical activity