 Mila's Bio
Mila was raised in Calgary and studied Environment & Sustainability Geography at UBC Vancouver. She nerds out when talking about Alberta's wildlife, ecosystems and energy landscape, and her happy place is on a ridge in the backcountry with a good pair of binoculars. As Lead of the Inside Education's Energy & Climate Team, Mila especially loves to teach, learn and share her enthusiasm for energy and climate topics, and is so happy to work alongside such a knowledgeable, positive and inspirational group of Educators!
B. A. Environment Sustainability Adean
Alessandrini
Education Program Coordinator Adean
Alessandrini
Education Program Coordinator
Adean's Bio
Adean comes from Edmonton and spent her childhood exploring the great outdoors that Alberta has to offer. Adean took her love of nature and applied it to her studies. She received her Bachelor of Science in Biology from the University of Alberta, and then moved abroad to study for her Master of Science in Forest and Nature Conservation from Wageningen University. Adean is super excited to use her passion and knowledge of the environment to inspire the next generation. Her hobbies include hiking, camping, skiing, or nerding out about Star Wars.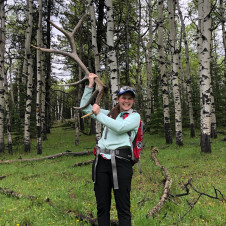 Kat
Hill
Education Program Coordinator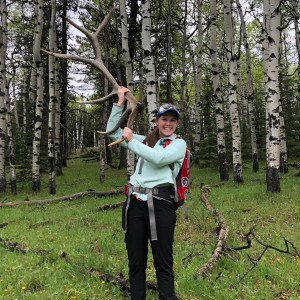 Kat
Hill
Education Program Coordinator
Kat's Bio
Kat (she/her) hails from Calgary and spends most weekends hiking, camping, riding horses, or cross country skiing! Inspired by the enjoyment of the outdoors and her passion for the environment, she attended Lakehead University and received an Honours Bachelor of Outdoor Recreation where she studied accessible recreation, expedition management, and rural tourism. Kat loves teaching about wetlands and watersheds especially so be ready to nerd out about aquatic invertebrates if you give her the chance.
Member of the Youth and Young Professionals Committee - Bow River Basin Council Ilana
Music
EDUCATION PROGRAM COORDINATOR Ilana
Music
EDUCATION PROGRAM COORDINATOR
Ilana's Bio
Armed with a degree in Environmental and Conservation Sciences from the University of Alberta, Ilana (she/her) is passionate about all things nature and sustainability. From the vast grasslands, to the mucky bogs, Ilana has navigated all of Alberta's ecosystems. She loves talking energy, and is eager to share her knowledge and experience in the fields of Land Reclamation and Oil and Gas with students and teachers. In her free time, Ilana can be found reading, hiking, or practicing her photography skills. Kathryn's Bio
We have our own secret energy source, and it's called Kathryn. She energizes and inspires the entire education team, with her incredible vision and positivity. Kathryn is an enthusiastic, experienced science educator, who loves to play a role in creating aha moments for others. When light bulbs start going on, you know Kathryn is in her element, engaging others in learning. Which makes the future bright and full of promise.
Director - Canadian Network for Environmental Education and Communication
Alberta Emerald Foundation Judging Panel