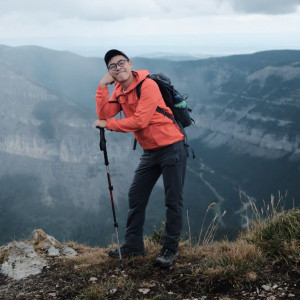 Jonathan's Bio
Jonathan was born and raised in Edmonton and has been with Inside Education for the past 3 and a half years. While he isn't busy creating posters and teacher guides, he spends most of his time outdoors hiking and skiing, baking every single thing imaginable from sour dough to cakes and Macarons, creating large scale landscape paintings, and taking wedding photos on the side. Laura's Bio
Laura has 23 years of experience in engineering and team leadership in the oil and gas, durables and non-durable manufacturing. Laura has been a senior executive in the energy sector for more than 10 years, most recently as Vice President Oil Sands and Heavy Oil at Pembina Pipeline Corporation. For 6 years, she held a Board member position on a not-for-profit organization, Women Building Futures, which prepares women for economically prosperous careers in industries where women have historically been under-represented. Laura believes in the power of higher education and supporting learning and development to help enhance people's careers, their lives and open up possibilities for new lines of thinking. Chloe's Bio
Chloe brings a range of communication experience to the Inside Education team ranging from non-profit, corporate and government. She has provided leadership, great ideas and new direction to the team! When Chloe isn't surfing the interwebs, you can find her hanging with her husband, Dan, 1 year old son, Jack, and pup, Walter.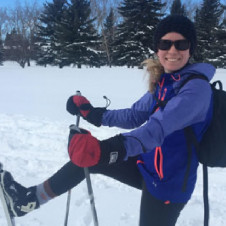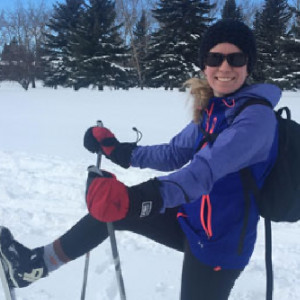 Jill's Bio
Jill has been with Inside Education since 2008. In those days you could find her leading students through Alberta's forests, co-chairing youth summits, and learning alongside amazing teachers.
After a brief hiatus, Jill hung up her hiking boots and began working behind the scenes as our Operations Manager.
Acadia School Parent Advisory Society
Director on the Acadia Community Garden and Art Society Adean
Alessandrini
Education Program Coordinator Adean
Alessandrini
Education Program Coordinator
Adean's Bio
Adean comes from Edmonton and spent her childhood exploring the great outdoors that Alberta has to offer. Adean took her love of nature and applied it to her studies. She received her Bachelor of Science in Biology from the University of Alberta, and then moved abroad to study for her Master of Science in Forest and Nature Conservation from Wageningen University. Adean is super excited to use her passion and knowledge of the environment to inspire the next generation. Her hobbies include hiking, camping, skiing, or nerding out about Star Wars.